LifeAfter, the Open World Doomsday Survival Game developed by NetEase Games, has gained the favor of numerous players with its unique interpretation of the survival genre. The annual update of 2021 — the Revenant — is now officially live, offering players an unprecedented way — half-Human-half-Zombie — to survive in the Doomsday world. The new version comes with new maps and stages where players can take up the new challenges brought about by the newly introduced Revenant by exploring the Underground City and fighting hostile Revenant.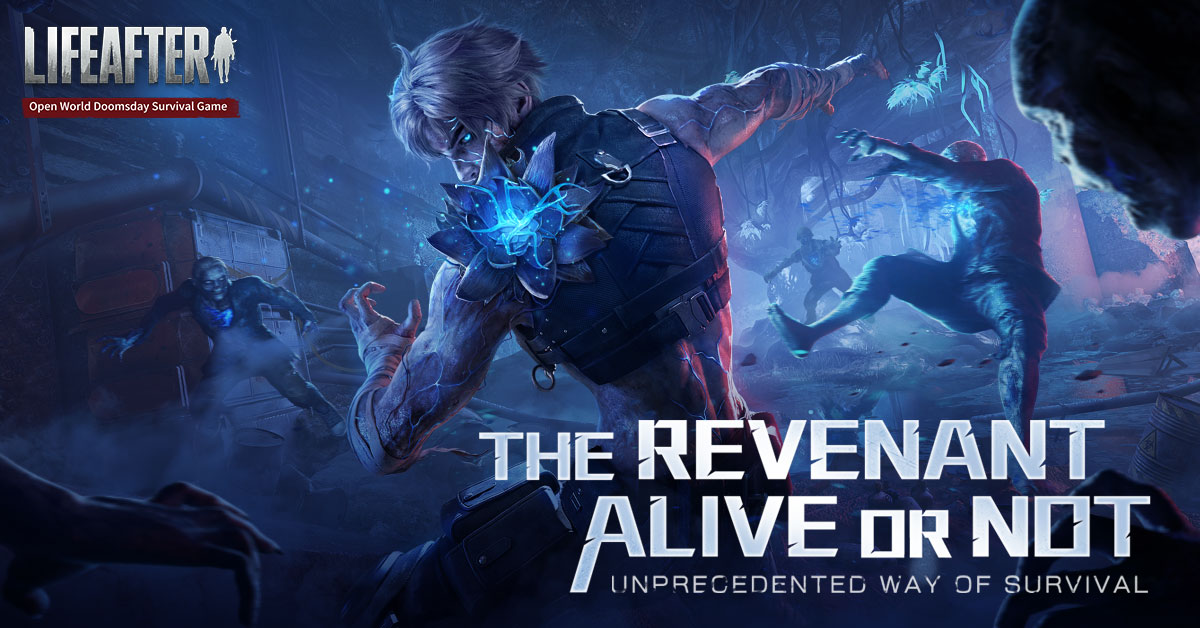 The Revenant, Alive or Not — the New Way of Survival
Whether it be movie, novel, animation or game, a Zombie production leaves ample room for imagination. In LifeAfter, players can be part of the surviving Human race to fight off Zombies, or — as a newly available option — they can become Revenant, a half-Human-half-Zombie entity.
The Revenant is a form of being that resides between Human and Zombie, having both the sanity of former and some of the surreal mutant power of the latter. The Zombie power within Revenant endow them with more powerful mutant abilities, but it's also trying to take over. Revenant need to constantly trying to contain the Zombie power within them and not be consumed by it and become a bona fide Zombie.
Whether new to the game or not, players can choose to become a Revenant by completing quests. When the decision is made, they can apply the blue Reagent after they're bitten by Zombie and before they've turned into one, and they'll have a second chance to live as a Revenant.
https://www.youtube.com/watch?v=rXx-_BPEDkM
Appearance, Combat, Gathering — Revenant Feature Revealed in Detail
The appearance of Revenant is like Human but spookier and more dangerous — the eyes are one blue and one black, the skin is pale, and they have visible blue blood vessels on the body and a blue Flower of Revenant on the shoulder.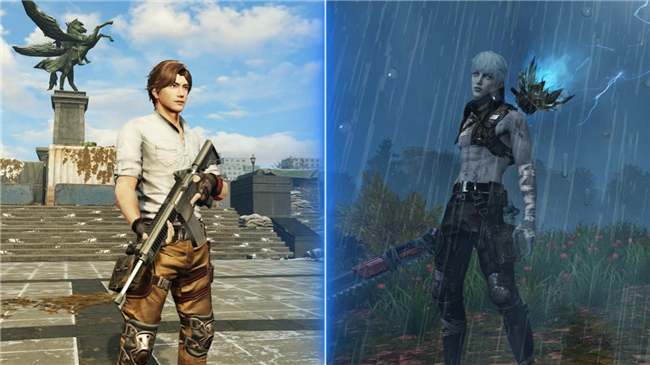 The Zombie power within Revenant makes them more powerful in terms of physical ability, and able to prevail in close combat with the Zombies because of their semi Zombie characteristics. In addition to being able to fight with weapons and tools like Humans, the Revenant also have a unique combat mechanic: Spore Parasitism. Specifically, when the Revenant's attack hits an enemy, spores will drop from the enemy. After picking up spores, the Revenant will obtain special skills. The spores dropped by different kinds of monsters are different and they will provide different skills. In other words, a Revenant will become even more powerful as the fight goes on. In addition, Revenant can locate corpses through parasitic plants, and obtain information from the corpses that is difficult for Humans to obtain, so as to learn the location of rare treasures and resources.
Different from Humans who are good at crafting and using various tools to gather materials, Revenant use the power of the Flower of Revenant to absorb biological energy and complete the essential daily gathering task. For example, they can grow stems from the Flower of Revenant to wrap around trees and stones, and drain them or crush them. In addition, Revenant can also collect unique resources that are exclusive to them, and use them to develop and make new weapons.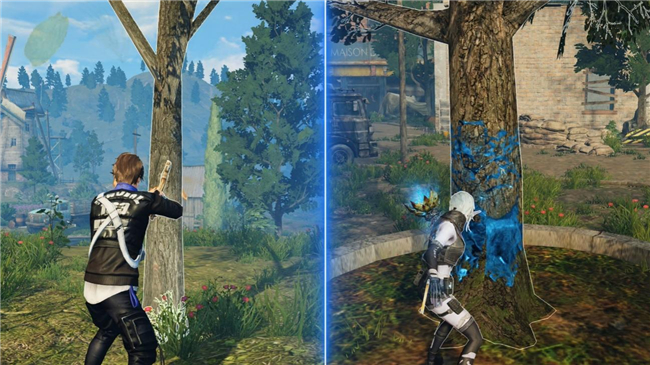 Those distinctive appearance and abilities make Revenant become a unique and brand-new way to survive in the Doomsday world.
New Map, New Stage Open — Mysterious Revenant Dwelling "City of Chaos"
With the introduction of Revenant, several new map scenes will be available to players to explore in LifeAfter. One of the most distinctive is the "City of Chaos" — the stronghold accessible only to Revenant. Take the elevator all the way down, and you will end up in the chaotic "kingdom come" of Revenant. The Fighting Arena on the first underground floor is a place for Revenant to have fun. They can test their skills with Zombies, or if they are tired, they can have a drink at the bar or place a bet with the bartender. The Living Area and Medical Area on the second underground floor are for Revenant's living and resting. Another floor down is the lab, where the lost-control Revenant are kept, serving as a warning sign for other Revenant that what it'll be like to lose the sanity. The huge Corolla of Revenant at the bottom floor of the city is beautiful, mysterious, and powerful, which is the place of faith and source of power for the Revenant.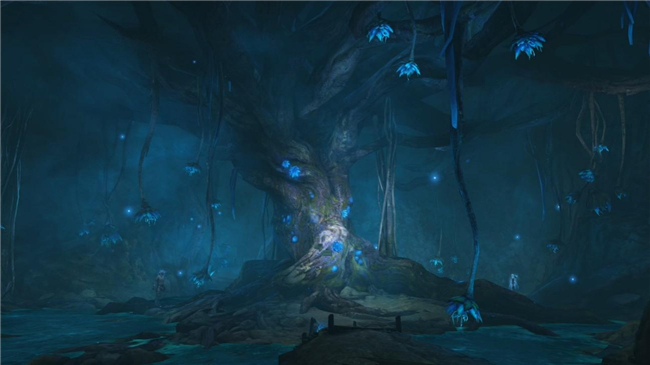 Besides the City of Chaos as the headquarters, there are 5 outposts, also serving as Revenant strongholds. By taking the elevator, Revenant players can travel between strongholds instantaneously.
People are divided into good and evil, and naturally the Revenant presents a more chaotic existence, that is, there are Revenant groups hostile to the players. In order to eliminate these restless existence, players can find Stages with the hostile Revenant on the map and rally a team to raid them, but remember to watch out for secret rooms and traps, and maybe they'll encounter new types of enemies... More challenges are waiting for players to explore in the game.
There are a lot of Doomsday Zombie games in the market, but LifeAfter is the first one to toy with the concept of "half Human and half Zombie" with the Revenant version. The phenomenon of Revenant is a major innovation in the genre of Doomsday Survival. Getting tired of just endless fighting between Human and Zombie? Want to experience the familiar Doomsday world from a third perspective other than Human and Zombie? Download LifeAfter now to experience an unprecedented of survival — The Revenant — in the Doomsday world!
Download LifeAfter now: https://go.onelink.me/uf4S/1ac5f621
LifeAfter Official Facebook: https://www.facebook.com/LifeAfter.en/
LifeAfter Official Twitter: https://twitter.com/LifeAfter_en
LifeAfter Official Website: https://www.lifeafter.game/
LifeAfter YouTube: https://www.youtube.com/channel/UCgGn6T7CV137rafeG-iFuxg
About LifeAfter
LifeAfter is an open-world doomsday survival game developed by NetEase Games (both iOS and Android version). Players are facing scarce resources, harsh weather, and dangerous wild lives, and from scratch collect resources, build houses, make tools and weapons, and fight alongside with teammates to make and defend a home in a post-apocalyptic world. By virtue of its vivid rendition of a doomsday world and survival struggles, the game now has 200 million registered players worldwide since its launch in 2018. It was dubbed the Most Competitive Game of 2019 by Google Play.
About NetEase Games
NetEase Games is the online games division of NetEase, Inc. (NASDAQ: NTES and HKEX: 9999), developing and operating some of the most popular mobile and PC games in markets including China and Japan. As one of the world's largest incubators of quality online game content, NetEase Games is dedicated to supporting the growth of innovative studios around the globe and growing an international presence along the way. To complement its self-developed games and world-class R&D capabilities, NetEase Games also partners with other industry leaders including Blizzard Entertainment, Mojang AB (a Microsoft subsidiary) and other global game developers to operate some of the most popular international online games in China. For more information, please visit neteasegames.com.